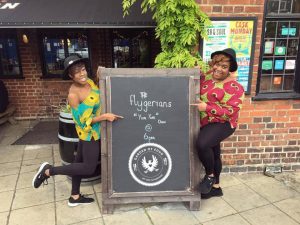 On a Wednesday evening the aroma wafting over from next door at The Old Nun's Head is just too irresistible. The pop-up kitchen each week is hosted by sisters Jess & Jo, AKA the Flygerians, AKA the Garden of Edun, serving up their Nigerian take on traditional British classics. These energetic ladies are also found hosting supper clubs at Studio@61 raising funds for local charities such as Little Village and the Westminster House Youth Club.
To whet the appetite, here is their recipe for their classic Cassava fries…
Or pop to the Old Nuns Head on Wednesdays 6-10pm (kids allowed til 8.30pm)
Keep up to date with these active sisters via @thegardenofedun on twitter & instagram
Recipe:
Naughty pot of cassava (one of our signature dishes)
What the hell is cassava I hear you ask? Cassava is a healthier vegan alternative to
chips and French fries. It's a root vegetable grown in most tropical countries
especially in Africa. Nigeria is the world's largest producer of cassava as the root
veg thrives in hot climates. In the UK it can be found at Asian and African food
markets, head down to Peckham high street to purchase this delicious melt in
your mouth, crispy-extra but soft-centre veg of deliciousness! You won't regret it!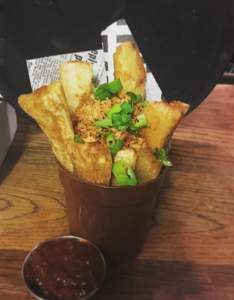 Author: The Flygerians
Recipe type: Starter / side dish
Serves : 3-4
What you will need
 2-3 pounds of cassava
 1 pinch of salt and 1 pinch of pepper ( add to taste)
 Chopped spring onions – 2 full stems
 Cooking oil ( enough to fill a mini deep fryer if you have one or enough to
fill a medium pot half way)
 Sharp cutting/ peeling knife
1. Carefully cut off both end of your cassava and cut it long ways in half.
2. Make a shallow cut into the skin of your cassava and carefully make your
way through it to cut off the skin. ( like you would peel a potato- the old
school way)
3. Cut into chunky chip shapes, once it's all cut rinse the cassava with some
warm water to remove any Cassava skin residue.
4. Place the cassava in a pot of warm or boiling water on the stove, enough to
cover the cassava.
5. Bring to boil and cook on a high heat till tender. Use a fork to check if its
boiled, it should be soft and you should be able to pierce the cassava the
whole way through.
6. Whilst the cassava is boiling put your oil in another pan or turn on your
deep fryer to heat up the oil.
7. Once your cassava is cooked drain the water and wait for the oil in your
separate pot/ fryer to be hot.
8. Dunk them in carefully and let them cook for 6-8 mins.
9. Remove them from the pot/ fryer into a serving dish or individual naughty
pots. (how we serve ours)
10. Sprinkle some salt and pepper to taste and ENJOY! Best served hot with
your choice of dip. We serve ours with a homemade crayfish and tomato
ketchup.